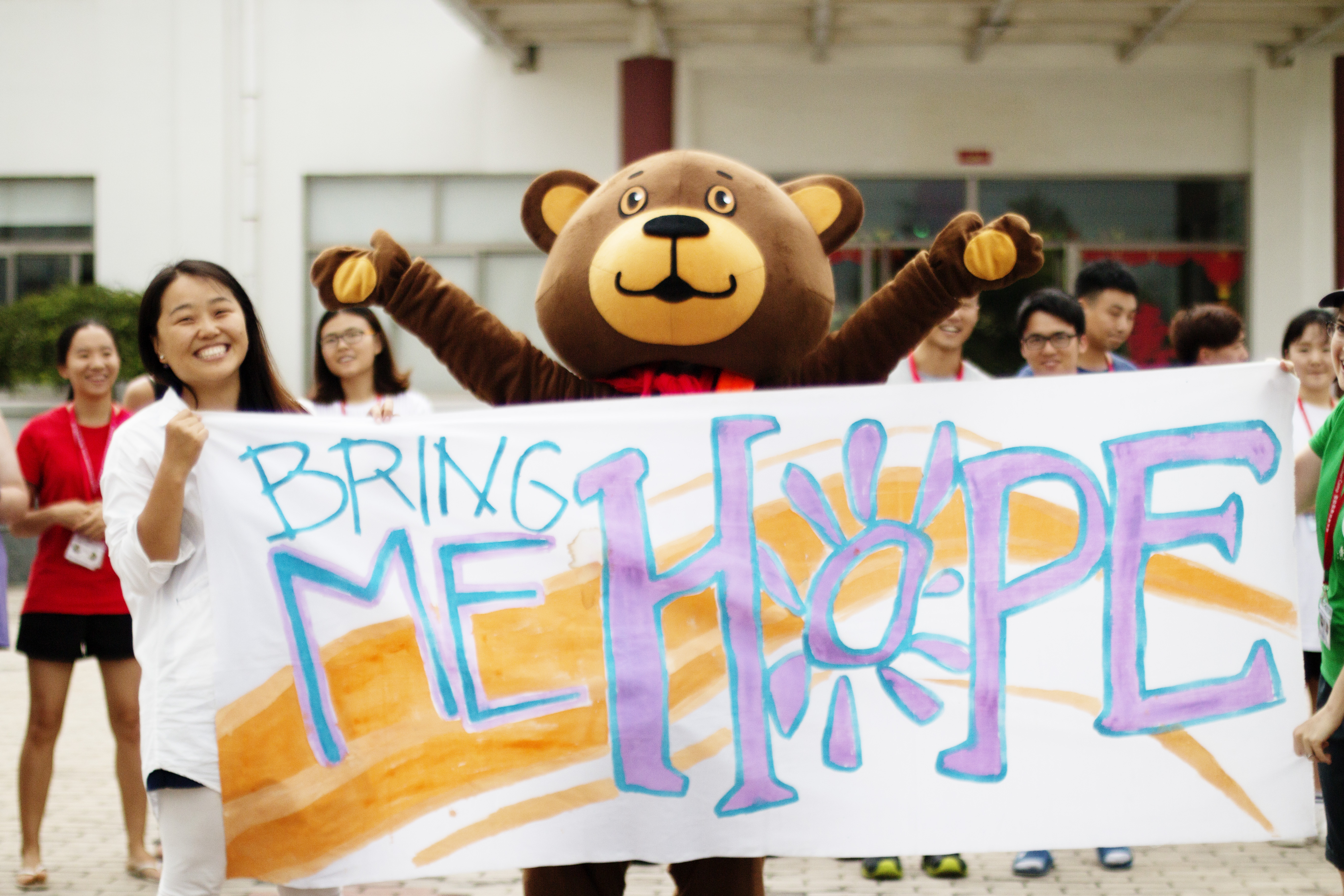 Volunteer in China this summer with Bring Me Hope! Bring Me Hope camps give you the opportunity to provide orphans with love, hope, a sense of self-worth, and long-term advocacy. You could be the only person to ever show a child love. What an opportunity!
Information for our 2017 camp is now available here. Make your summer count and begin changing the world one life at a time.
"So what exactly does a week at camp look like?" We're glad you asked! Here's a week-in-the-life of a Bring Me Hope summer camp volunteer.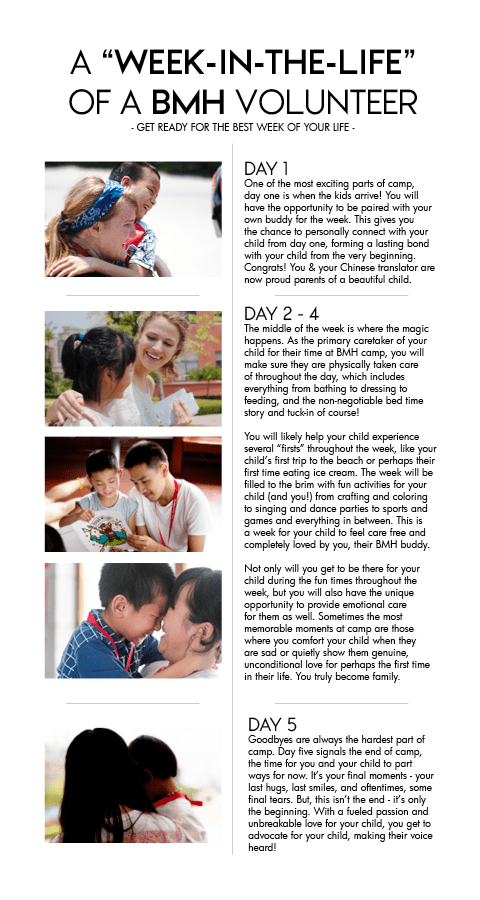 "Stand Up and Start Your Mission"
I grew up in the orphanage for ten years. For the past ten years of my life at the orphanage I was never been able to go near someone, because of my badly wounded, infected, and bloody foot, and a pair of infected awful smelly ears. Whenever people came near me I would always go as far away as possible so that they could not smell my ears or see my nasty foot. Every day I had to be hundred feet away from people so they would not be disgusted by my ears. I did not like to embarrass anybody or let them talk about how bad my ears smell or my foot looked, so I had my own little corner that I could hide from so no one could found me or talked bad about me. That was how my life was at the orphanage I did not like to be ashamed or embarrassed by people because of what I had.
Bring Me Hope I (2006)
In August of 2006, a few of my friends and I went to a camp called Bring Me Hope. I was very scared, felt ashamed, and guilty to myself because of my foot and ears. I tried to hide my foot and cover my ears so they would not notice anything. At the camp the children were matched with a Chinese translator and an American volunteer (we call that a family group), My American buddy was Kirsten Chase and another child named (Jing Hua) from a different orphanage I did not remember my translator. Throughout the camp I did not talk to the strangers (foreigners) or even go near them. I did my best to run away from the people that I did not know. I was scared that they would be like my caregivers and friends talked baddy about my foot and ears, not long after they found out my foot and ears. They did not yelled at me or told me to go away but they gave me whole bunch of medicines for my foot and ears and my buddy Kristen hugged me because she knew I fill little scared and shy. For ten years of my life at the orphanage I never had any medicines and hugs before, my foot bleeds every day and no one cares, and no one ever came close to me within three feet and gave me hugs. For three whole days I was keeping my distance away from all the people I did not know. I was very stubborn and cold hearted to my family group and the rest of the people I did not talk anybody or interact with my family group I would was ran to my friends and play with them. As the Friday came that means the camp was almost over, so that very night for talent show all the American buddies gathered together and learned a Chinese song called" Grateful Heart"( 感恩的心) . All the children sat on the floor with the translators and listen to our American buddies sing the song, and at the end of the song the American buddies gave their buddies (children) hugs. That very night I stated to open up my mind and gave my buddies hugs and talked to them and smile at them. That very next morning it was very raining day and it was time for us to leave. Everybody cried and hugged their buddies tightly, and for the first time and ever I cried and teared and so I quickly ran to my buddy Kristen and hugged her tightly. My heart was truly touched by my family group, for the first time and ever I never felt so loved cared by people before, I just would not let go of my buddy. At the very last minute I let go with non-stop tears dripping down from my eyes. At the bus all the children cried or felt sad all the way home.
Bring Me Hope II (2010)
In July of 2010 my whole family went back to Bring Hope. My parents were the volunteers and my two sisters and I were just kids did not have the responsibly of doing anything or teaching anything to the children. My parents both had a child and an interpreter and the two families together we made a big family group. My sisters and I were just playing with the other children our age.
Bring Me Hope III (2014)
In The past summer of July my friend (Jessie) and I went to Bring Me Hope camp by ourselves. I was very happy and excited to be able to go back again as a volunteer. On Monday I had the two youngest children of the whole camp. They were two years old and three years old, and both of my boys were very active, energetic, and naughty. My interceptors and I just could not stop them from running, I guess they are in just in those ages. Every day, I would chase them from one place to another and play with them from early morning till night. Throughout the week of camp I learned to be patient, interact with them, and love them of all. I had the responsibility to be like a volunteer, and show love, kindness, and patient to the children who never had the experience before. When all the children left on Friday morning it was always a sad day for everybody to leave their little family group once you have build up a good relationship with the children it is always sad to leave each other. In the weekend I slap with the interpreters that night. In my dorm there were six Chinese interpreters and one of them was my. All the children left so I went back to my normal self which is the crazy, naughty, restless, nonstop talking, loud, and burst out laughing every time people talk. I was the only volunteer in that room so most the translators came to my bed and as me about how I know about BMH? How many times I have volunteering and so on. I started to open my album book that I bought with me and shared my life time stories with them, after that they asked me what does Bring Me Hope mean and what is the main purpose to be in BMH. I shared every details that I know to them. By two thirty o'clock mid-night I started to share my faith with them, and half some of them got tired so they hoped into their bed and get ready for bed. The rest of them were still listening to me and I showed them the most important passages from the Bible and they started to ask me all kinds of questions like "how to do you know the Bible is true? Where is God? How do you know if Jesus is going to coming back again?" Thank goodness I got all those passages highlighted and bookmarked. I carefully telling them the truth from Bible to them, and they started understand what I mean. When it was time for me to ask them about their life background and some of them are staring to believe and some are still not sure but in the deciding point line. When were all time talking about the Biblical massages they were getting to be tired because it was about three forty-five o'clock, but I was not tired at all I was still very energetic and active. While they were getting to bed I still stalking burst out with words and laughs. Finally I realized I was talking to the air they all went to bed so not long after I went to bed. We all woke up at nine o'clock and went out for a walk. I had an awesome time! I truly did!
Bring Me Hope V (2015)
This year in July, I am going back to Bring Me hope by myself and serve for the Lord again for those who are in hunger and thirst for the Lord Jesus Christ. I just can't wait at all. The great news for this year is that we are staring a Bring Me Hope camp in Philippine. David Bolt the starter of the BMH is going to go there. I am so happy and excited that Bring Me Hope is getting bigger as the time goes on. In Bring Me Hope we not only showing the children love, faith, patient care, kindness, and etc… We are also reaching out the translators who are lost in the darkness, there are so many people are in need of a Savior Jesus Christ. In Mark 16:15 He said to them, "Go into all the world and preach the gospel to all creation. In Matthew 18:20 "For where two or three gather in my name, there am I with them." In the past I was a non-talker, not very active, very cold hearted, and did not like to go near anybody at all. Once I got accepted Jesus Christ as my Savior at the age of fifteen I totally got changed into a different person. If I can do this than I believe you can do this too. There are so many people need our help to lead them to Christ, BMH is one of the organization you can joining. Christians stand up and start your mission! Don't waste your time! The life God gave you is way too precious to waste there are way too many people needs your help, and God needs your hands and feet to get moving!
This is the Potter family. In recent months, they've been in the process of trying to adopt JJ, a Chinese orphan incorrectly diagnosed with Down's syndrome. JJ got to go to Bring Me Hope camp in 2014 and met Jeff Knipe who has been advocating for JJ since late summer of last year. Read Jeff's amazing story about how JJ is now in the process of being adopted:
Our family has been involved with helping the kids from our daughter's orphanage in China for the past 10 years.
We held mini camps at his orphange in 2012 and 2013. JJ was one of our favorites and attended BMH camp in 2014, 
When I found out that the orphanage had diagnosed him with Down Syndrome and potential congenital retardation, I knew it was incorrect and there must be some way to get his medical file corrected.  We were able to get him out of the orphanage and into Agape Family Life House in Langfang in late 2014, but they still did not have the resources to get his file checked and corrected.
So, in January 2015, I flew to China with the hopes of correcting his medical file and finding out exactly what was going on with An Jie Ran. I met Earl Tai from the Baobei Foundation in Shanghai and his team proceeded to do many tests on JJ at the Shanghai Children's Medical Center.  We were able to medically prove he did not have Down Syndrome or any type of mental retardation.  Rather, we believe he has a genetic bone disorder which has stunned his growth and caused some other physical issues.
When I returned from China with his corrected file, I now had to find a Christian family who was willing to adopt him. In about 2 weeks after my return, God led us to the Potter family in North Carolina who heard about JJ's story and, after praying about it for a few days, called me back and said "JJ is our son and we believe God wants us to adopt him as soon as possible."
They are a wonderful family and have raised $11,000 from family and friends for the adoption so far.  But I knew they would need much more money to complete the adoption.  
A Mother's Love had raised about $10,000 for any potential medical costs JJ may have and the remaining was to be used for his adoption.  The Baobei Foundation had donated ALL of the medical tests, so all of the $10,000 AML raised could  be used for the adoption fund. But we still needed about $15,000 more.
A few days later, we received the entire $15,000 from a generous donor who heard about JJ's story.
The Potters have been moving quickly through the adoption process, and recently completed their Home Study. This pastWednesday, I drove 10 hours up to their home in NC and surprised them with the $25,000 adoption grant!! It was the culmination of lots of incredible blessings and it proved again that God is in the "adoption business!"
The Potters expect to adopt JJ sometime in 2015 and will be travelling with their entire family.
Some very cool points to note:
1)  The Potters are naming him Jieran Jacob Potter (JJ). They had no idea that his incredible BMH volunteer at camp last summer was named Jacob.
2)  3 days before I left for China to try and help An Jie Ran (Jan 12th), I did not have ANY confirmed plans or appointments to help him and I almost did not make the trip.
3)  In just 90 days, we went from not knowing if we could even help JJ's situation, to correcting his medical files, to finding him a forever family, and then raising all of the money needed for his adoption.  Amazing….
How awesome is that?! We hope this story causes you to admire God all the more for his orchestration and that he inspires you to go to extreme measures to help those whom God has called us to love. I'm sure we'll hear more about JJ and his new family in the next few months, so stay tuned to read more.
Blessings!
Join people around the world to raise support for orphans in need!
On Friday, May 15th, people around the world will participate in the 2015 Night Walk to raise awareness for orphans in need and raise money to help them go to Bring Me Hope camp this summer. To sign up for the Night Walk, click here. For more information about the Night Walk, click here. The deadline for ordering T-shirts is May 1st, so sign up soon! Scroll down to see a map of all the cities hosting a Night Walk this year.
Tighten up your laces and let's walk our cities for orphans around the world!
Join a walk in a city near you or create a walk of your own!
This is the time of year where Bring Me Hope is on their toes as we start pushing towards getting everything ready for camp. It's not just the details, crafts and games we are planning but the kids that we will be bringing and who we will choose.
To get into our head and about the kids we work with means seeing our year long goal. We can say it starts at camp, our volunteers arrive ready to take on the new challenges and fun as orphans are bussed in for the week. This is a time where kids get to be kids and possibly forget for a fleeting moment that they are hoping for a family. There are firsts for them through the week and by the time they leave, we hope that they have felt LOVED in ways they have never seen.
Camp is just the beginning for our kiddos, going home is one of the most crucial steps…it's where we the staff and volunteer spend hours putting together information about our campers and getting them seen. We blast them on social media, tell their story to the world and search for families. Having first hand experience, photos and videos can attract the attention of many adoptive parents because they feel like they know the child before they lock in on their file.
So, while a month is spent at camp, 11 months are spent advocating. This brings us to today. We want to change lives, we want to get our campers on the front page of many peoples minds…we want families. BUT to make this possible, we have to have people like you and me send orphans to our camp. It can be a $20 donation or $500. Without YOU, less kids come which could potentially mean a child's story won't get told.
This month, we are coming alongside Cory, founder of Give Yak and making your donations more fun. Give Yak was founded with a passion to serve the Chinese community by designing Asian-inspired shirts that give back. For March, Cory had the idea to partner with us to launch Give Yak while giving all the proceeds to Bring Me Hope campers. The catch is, you get a gift if you donate this month…depending on the size of the donation will put you in different brackets from shirts to hand made Asian crafts and beautiful boxes.
So if you want to help us send a kids to camp, go to Give Yak and give back (http://www.giveyak.org/support-chinese-orphans)
For The Kids,
Caitlyn
Today is the last day to enter  our first Bring Me Hope contest… >  HERE <
This is a first of our giveaways for the year with the intent to bring more exposure for people interested in Orphan Mission trips and coming to China.  We also are interested in providing a way for creatives to donate work who are passionate about giving back and serving.  So if you are a creative and are interested in partnering with Bring Me Hope, please feel free to contact us…we would love to hear your story (contact caitlyn@bringmehope.org).
Our first creative I would love for you to meet it Saray Gray, who is the owner of Crystal Raindrop.  Her jewelry creating began when she was a little girl.  Sarah and her sister would make different things for their Mom and Grandma together.
It was in Sarah's Junior year of highschool, after making jewelry for her friend, thoughts of how she could turn her love for creating into a business began.  Her shop opened when she was a high school Senior and she has continued ever since.
What inspires you to create?
One of the many reasons I love making jewelry is, I can pick the style I create. I like very simple, elegant jewelry, and that is not easy to find. All the jewelry I make is something that I would wear myself, and know that there are other people looking for the same thing.
How do you serve the community/others with your business ?
I love to be involved in raising money for good causes. I enjoyed being able to help with my friends fundraiser for the Bring Me Hope Foundation. It was not only a great experience, but it was a lot of fun as well. It was a blessing to see everyone give their all to raise money for this wonderful foundation.
What was the inspiration behind the piece you donate to BMH & what is the pieces name?
The piece that I have made to donated to the Bring Me Hope Foundation is a good representation of the style of jewelry I make. When I was asked to make a piece of jewelry to donate I honestly didn't have any idea what I was going to make. So I just sat down one evening and got to work. Cutting wire, trying different ways to bend it, to get an eligible look to it. Eventually I knew exactly what I wanted it to look like.
The name of the piece is Blue Ellipse. I picked this name because of its rounded shape. The calming blue and hints of crystal that remind me of the moon on a cool night.
What piece of advice would you give to people who are creatives and want to use their business with a purpose?
If I had to give advice to someone looking to start their own business out of a hobby, I would tell them to have fun and really enjoy what they are doing. It is also very important to give what you are doing to the Lord. Seek the Lord's guidance in your business always. I think that is the most important part.
Sometimes all you think about is what you have to get done and your deadlines, but that takes all the joy out of what you are doing. When you no longer find joy in what you are doing it shows in your work. So, take your time and enjoy what you are doing and thank the Lord for giving you your abilities.
Random funny facts about you?
And a random fact about me is I have a weird obsession with clocks..I Love 'em!
We loved having Sarah on the blog.  To find more of her work send her an email (CrystalRaindropShop@gmail.com) or visit her website www.CrystalRaindropShop.com.
For the Kids!
Caitlyn + The BMH Team
I love it when I have the privilege to interview another company that is passionate about orphans, especially when it is a huge movement making a difference around the world.  The Christian Alliance for Orphans is the company behind "Orphan Sunday!"  Orphan Sunday is a DAY that allows all of us to come together and speak about the needs of children throughout the world…a special Sunday dedicated to trying to change their futures and letting their voice be heard.  I love what CAFO is doing and how adoption builds a team…those advocating, those adopting, those giving, those caring & altogether these people change the world and a life.  I love what Sandra said in this interview, "Not every family is called to adopt and not every orphan is adoptable, but we are all called to care for orphans."  This can mean going on an orphan missions trip through Bring Me Hope next summer, volunteering in local foster care group or using your talents to raise funds for a family adopting…the possibilities are endless!  Reading this has me thinking of what my next role is in the world of orphans and I hope is also motivates you to think of ways you change a life as well!
The roots of Orphan Sunday and where it all began:
The seeds of Orphan Sunday come especially as a gift from the Church in Africa. While attending a church service in Zambia, an American visitor was struck by the pastor's passionate call to care for orphans in the local community, which had been ravaged by AIDS and poverty. Members of the church faced deep need themselves. But as the service ended, one after another stepped forward with money, food and other goods-some even taking off their own shoes and placing them in the offering for orphans. The visitor, Gary Schneider, was so impacted that he began to help Zambian leaders coordinate Orphan Sunday efforts across Zambia. These efforts spread to the U.S. in 2003 with help from Every Orphan's Hope and other organizations. (Orphan Sunday is licensed to the Christian Alliance for Orphans as a registered trademark of Every Orphan's Hope). The Christian Alliance for Orphans (CAFO) honors the church in Zambia for the gift of Orphan Sunday. We pray the church all over the world may be as faithful as our Zambian brothers and sisters to reflect God's heart for the orphan, both near and far. To view the history of Orphan Sunday, we invite you to watch "Zambia's Gift to World"

What have you found is the best way to get people involved in orphan care? 
Orphan Sunday, is a perfect time to stand for the orphan. Christians are a people called to defend the fatherless…to care for the child that has no family…to visit orphans in their distress. Each Orphan Sunday event is locally-led. Sermons and small groups, concerts and prayer gatherings, shared meals and youth activities—each rousing believers with God's call to care for the orphan, and what we can do in response. From many sources, one voice. Each November, thousands of events will echo across America and around the globe, all sharing a single goal: that God's great love for the orphan will echo in our lives as well. Orphan Sunday is your opportunity to rouse church, community and friends to God's call to care for the orphan.
How can people who have no desire to adopt be involved in orphan care?
Not every family is called to adopt and not every orphan is adoptable, but we are all called to care for orphans. There are lots of ways folks can get involved from the littlest Sunday School kid to the most senior of senior citizens! Prayer, child sponsorship, food/clothing drives, short-term missions trips, volunteering at foster care group homes, doing adoption fundraisers, the opportunities are endless!
Do you see a need to invest in the lives of orphans after they "age-out" or once they turn 18? 
There is absolutely a need to invest in the lives of orphans after they age-out. As older orphans and foster children age out of care the trends are heart breaking: homelessness, substance abuse, trafficking, crime and incarceration await many who lack adequate support networks. We believe that the Church is called to step into that gap, opening doors to promising futures for these children through holistic life transition programs including: Life Skills Training, Spiritual Care and Mentoring, Transitional Housing, Career development, and Lifelong Church and Community Support Networks. The Aging Out Initiative works to identify and share successful models from CAFO member organizations that show how the Church can help create healthy life transitions for those aging out of international orphan care and U.S. foster care. Go to christianalliancefororphans.org to learn more about our Aging Out Initiative.
What's the greatest way to assist those who are adopting?
The Church can wrap around adopting families in many ways. Adoptive families need prayer and financial support during the adoption process. Churches can establish adoption funds to assist their families and even organize fundraisers. Supporting families when their child/children arrives home by bringing meals, diapers, clothing, etc. are all ways to bless an adoptive family. In churches where there are several foster and adoptive families the development of a support group can be an integral part of a church's orphan ministry.
Give us a peek behind the curtain of the emotional journey that someone who is adopting goes through.
I can share from my personal experience as my husband and I have adopted 4 siblings from Ukraine. Any adoption – international or domestic – is a walk of faith with many ups and downs. It's emotionally draining, physically exhausting, and long – and that's before the child/children come home! After we completed a dossier aka "mountains of paperwork," submitting it to the Ukrainian government, and getting approved to adopt in late 2005, Ukraine closed down their adoption program for 9 months to reorganize it. During that long wait, the documents in our dossier expired and we had to re-do the entire file. We finally traveled to Ukraine in late 2006. I was in-country for 6 weeks completing our adoption (my husband returned home to work and our biological children after 4 weeks). Traveling for an international adoption is different for each country. For Ukraine we only needed to make 1 trip and opted to remain there until we could leave with our kids. Being away from home so long was one of the hardest things I've ever done, but as I look back on that part of the journey, I cherish those memories. Once the child/children are home – the adventure really begins. Every family is different, every child is different, and every adoption journey is unique to each family. There will be difficulties before, during and after the child comes home. It is an emotional journey for every member of the family, therefore it is crucial that families have good support systems and access to post-adoption resources.
Do you ever see adoption "burn-out"? People who have a desire, but aren't familiar with the process and wind up getting discouraged to the point of quitting?
If so, how do you assist these people? Yes, I've seen adoption burn-out. The adoption journey can have many ups and downs and heartbreaking turns. If adoptive parents are not properly prepared and equally committed to the adoption things can unravel quickly. I've seen adoptive parents travel all the way to Ukraine and not be on the same page, nor were they adequately prepared by their agency. After 2 weeks in country and a difficult process they were not equipped for, the family returned home without a child and never attempted to adopt again. When a prospective adoptive family is committed to the adoption, well prepared, and trusting God for the outcome then burn-out doesn't win. Recently I spoke with a pastor who shared that he and his wife finally brought home a new-born baby boy after 4 failed adoption attempts. First they were weeks away from traveling to Russia in late 2012 when Russia closed it's adoption program closing the door to the little girl they'd hoped to bring home. The family then switched to domestic adoption where they came close to being picked by 2 different birth moms only to not get chosen. The 4th try brought them just hours away from a child. They had plane tickets in hand to fly to another state when their lawyer discovered the agency they were adopting through was not licensed to operate in their state of residence, closing the door to that child forever. I asked the pastor why, after so much heartbreak, would they continue to try to adopt. His answer, "There is a war for children and we need to fight." This family knew God had called them to adopt, so they walked by faith and now hold their newborn son in their arms. Adoption, whether international or domestic is not for the faint of heart, but it is worth it! It's crucial for families to partner with a reputable adoption or foster care agency as they navigate through a grueling process. For a list of agencies that meet our high standards of excellence visit our website at christianalliancefororphans.org
Thank you Sandra for allowing me to interview you!  You are changing the world!  If you haven't done anything yet, you still have time to get together some materials and get your church involved in Orphan Sunday this weekend, November 2nd.
Sandra Flach is the Media Coordinator for Orphan Sunday.  She is a Mom of 3 biological children and 5 adopted (1 domestic & 4 international) from up-state New York.  She's also the Executive Director of Justice for Orphans at justicefororphansny.org.
For the Kids,
Caitlyn B & the Bring Me Hope Team
This last week, we got the amazing opportunity to announce our new FALL trips!  Bring Me Hope has only done summer camps and this year we are expanding our field and inviting YOU to come with us to Beijing!  
The set up will have similarities to Summer Camps that we hold but in a much smaller setting.  We are taking a max of 15 volunteers and focusing on a week of serving orphans.  The advantage of this trip is you will get one-on-one time with your child from a local orphanage on a smaller, more focused scale for the entire week.  You will also be paired with a translator and become a little family!  There are daily "camp" activities such as games, crafts and music but you will get to really spend your time loving on your Orphan and sharing life with them!
One of the most exciting parts of the trip is that you will get to spend a day being trained in orphan advocacy and how you can spread the word and possibly find a home for your child or ways to meet their needs while in China.
If you LOVE kids, have a heart for orphans & want to travel…this is the trip for YOU!  The Fall Beijing trip is October 25th through November 2nd.  The cost for the trip is $1,100 and this includes everything but your Visa + Airfare.
I can't wait to see our first fall team head to China and rock the world of an orphan!
Here is a link to the application (http://bringmehope.org/mform_config/machform/view.php?id=14965)
For the Kids,
Caitlyn & Bring Me Hope Team
Because of our love for orphans, we like to feature other people who also have a heart for orphans around the world.  Mother Teresa is well known around the world for her charitable work and heart for people and children. She worked with many orphans and today we want to help celebrate her 104th birthday with our 10 favorite Mother Teresa quotes:
For the Kids,
Caitlyn & Bring Me Hope Team