Klodia
12 years old as of 02/26/2020
---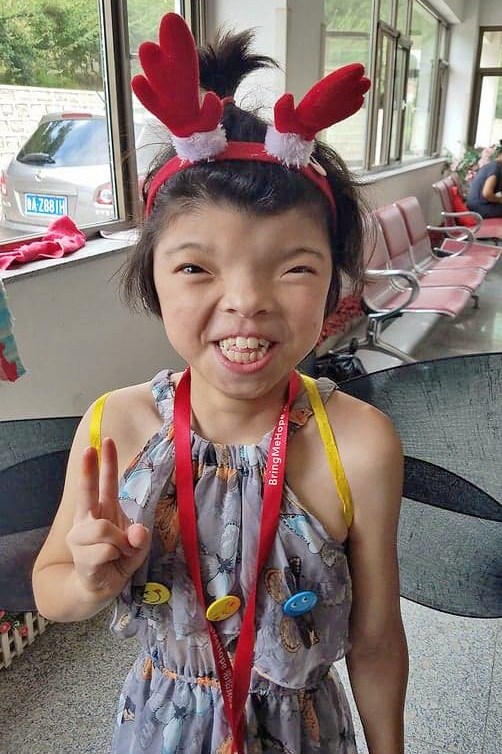 Klodia is a smart and active little girl, who can run, jump, throw and catch. She is friendly, extroverted, playful, funny, and full of joy. At camp, she LOVED the waterside and jumping off the side of the pool and splashing into her volunteer's arms. She also enjoyed playing with slime, play dough, and kinetic sand. 
Klodia has an amazing memory. She learned how to play Old Maid and knew all the rules by the end of the first game! She could also lead everyone around camp and knew exactly where everything was. Her volunteer noted that she has a healthy appetite and "eats more than any teen boy, including every vegetable put in front of her!"
Klodia is listed as a healthy, but has a facial difference. When she was a baby, her orphanage thought that she may have had Down syndrome, but they know now that is incorrect. A physician who looked at her pictures and videos mentioned Hypertelorism, though she has not been formally diagnosed. Klodia seems to be healthy and can communicate clearly, although she can be withdraw when sharing her feelings. She will need a family to encourage her to reach her full potential!
Klodia has a $3000 Adoption Assistance Grant through Love Without Boundaries: https://www.lovewithoutboundaries.com/adoption-grant-recipients/
---
Photos & Videos
https://vimeo.com/297978100
https://vimeo.com/297976896
https://vimeo.com/297976126
---
For more detailed information about Klodia, leave us a message to the right or email advocate@bringmehope.org.
*Disclaimer: We can't share the child's Chinese Name or DOB directly. If you are interested in seeing the file and adopting this child, please have your agency contact us to get the child's information.
*DISCLAIMER: While we always strive to stay on top of which agency a child is placed with IF they disappear from the shared list, due to the nature of how files can move this isn't always possible.