Donovan
13 years old as of 01/25/2021
---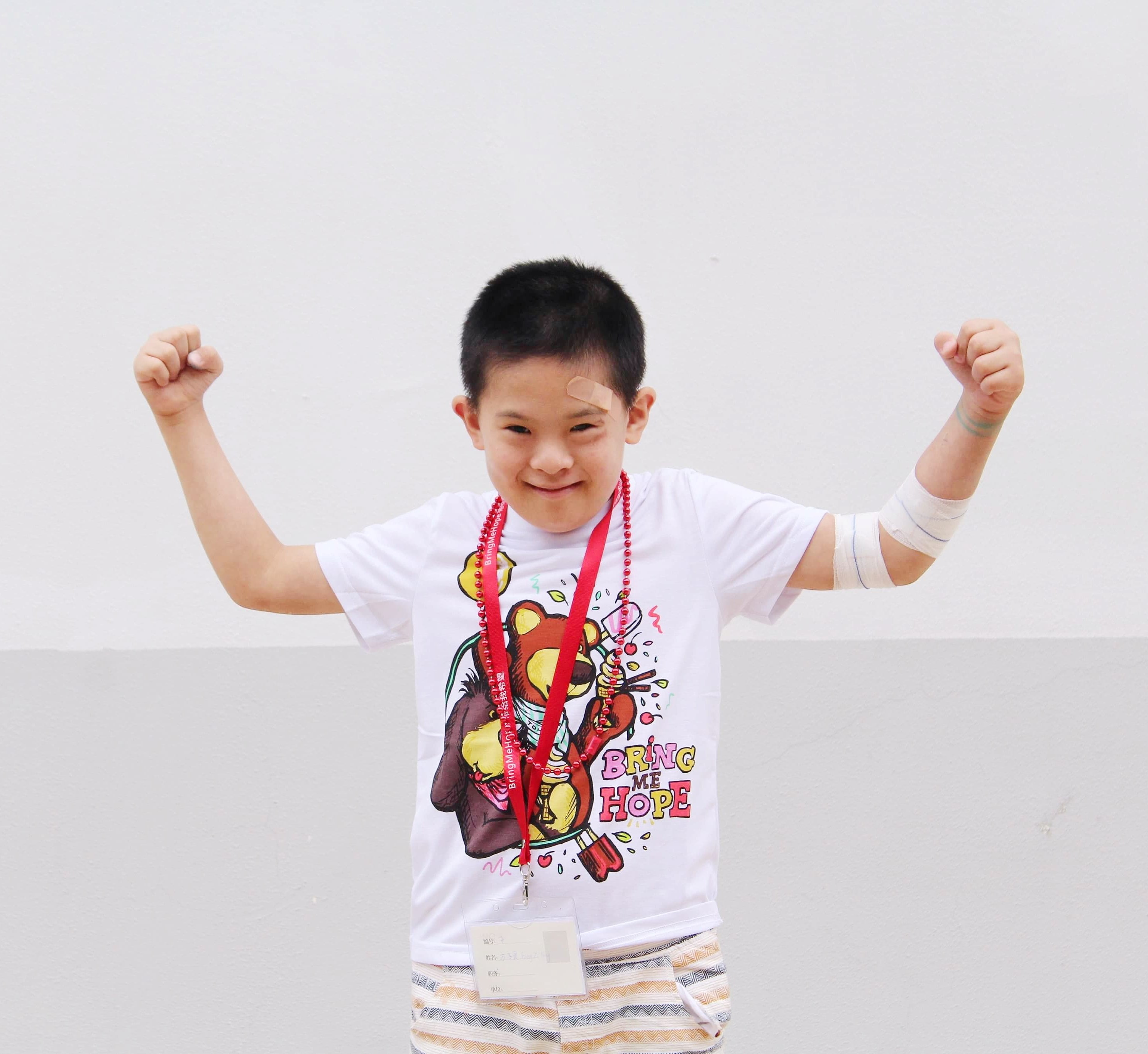 Downs Syndrome and limited verbal skills has never stopped 12-year-old Donovan from giving his 100%- he has SO much personality! Upon going to Bring Me Hope's 2018 Yantai camp, he was instantly comfortable with the staff (hugging and high-fiving everyone) and the activities (playing in the water and singing with gusto) since he had been to camp before. What an amazing impact consistency will do in a child's life! Donovan will often be making up his own songs and loves to repeat after random tunes or words he hears, showing potential to learn speech despite his disability.
          Occasionally group activities were beyond his understanding at camp, but his imagination allowed his family group at camp to enjoy their own games. One of his favorites was using his "smart phone," a folded scrap of cardstock, to take selfies or arrange his family group members into poses. After taking the pictures, he would "scroll" through them to determine whether they were good or needed to be retaken.
          In good moods, he's a sweet kid who unconditionally shares his stickers and takes care of those in his family group around him, as every young man wants to protect those they love. In bad moods, he has understandably attention-seeking behavior that can result in misbehaving or aggression, but this does not seem deep-seated: he quickly learned how to pet the horses and was calmly gentle the whole time with the horses. He will even gently, but firmly, take your hand to "help" you pet the horses too.
          With a stable, loving family, who will patiently guide his creativity and love for music, he would THRIVE and bring such joy to those around him. Do you know anyone who can be his forever family? Share Donovan's story!
---
Photos & Videos
---
For more detailed information about Donovan, leave us a message to the right or email advocate@bringmehope.org.
*Disclaimer: We can't share the child's Chinese Name or DOB directly. If you are interested in seeing the file and adopting this child, please have your agency contact us to get the child's information.
*DISCLAIMER: While we always strive to stay on top of which agency a child is placed with IF they disappear from the shared list, due to the nature of how files can move this isn't always possible.