Louise
Age: 11 (as of 08/21/2017)
---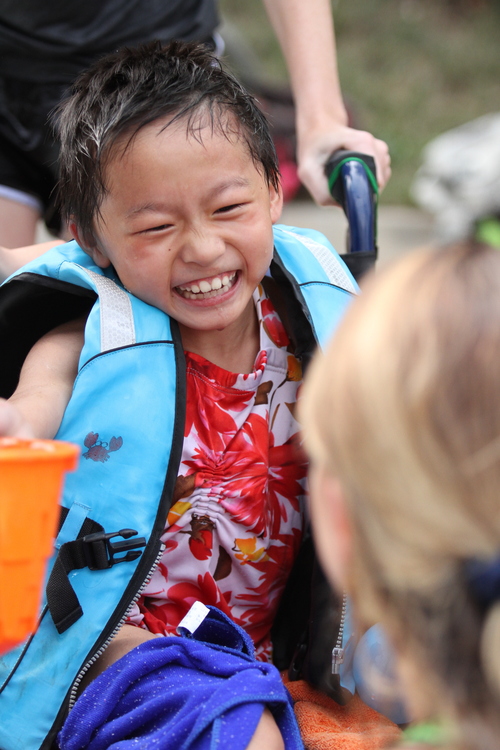 Louise is quiet and well behaved. She is very sweet and generous. She likes to share with others. She is independent and does as much for herself as she can. She likes to laugh and have fun. She really enjoyed craft time, stickers and coloring. She loves blowing bubbles and doing puzzles. She loves the water and swimming – riding on a floatie or in a small boat. She also enjoys singing and doing motions to songs.
Funny: One time another little boy called me "YeYe" (grandpa in Chinese) and that surprised us. Louise laughed all along the way. She thought that was very funny.
Significant: She is always so generous. Every time she had a snack, she would share them with the people around her which impressed us the most. She also offered to watch two of the younger children so that the volunteer could have a break and do other things. We didn't have her do that but it was still sweet of her to try to relieve some stress. Also when we were blowing bubbles she asked how the bubbles formed. She is very bright!
Even though she has a slightly limited range of motion with her hands and fingers she can use chopsticks to feed herself, brush her teeth, color pictures, blow bubbles, etc. Even though she can't walk or stand, she can scoot on the floor when seated. She can sit on the toilet if she has something to hold onto. She can also clean herself for the most part. Even though she drools, she speaks very clearly and intelligently.
---
Photos & Videos
---
For more detailed information about Louise, leave us a message to the right or email advocate@bringmehope.org.
*Disclaimer: We can't share the child's Chinese Name or DOB directly. If you are interested in seeing the file and adopting this child, please have your agency contact us to get the child's information.
*DISCLAIMER: While we always strive to stay on top of which agency a child is placed with IF they disappear from the shared list, due to the nature of how files can move this isn't always possible.